Whitelisting Simulation Emails
Below is a short guide on how to allow phishing simulation emails through to users' inboxes on Office 365. This guide will show you how to create a rule on Microsoft 365 Exchange that will allow through all the required email domains that the phishing simulations use.
Before starting please make sure you are a global Administrator within Mirosoft 365.
Navigate to 365 Exchange https://admin.exchange.microsoft.com/
Expand the 'Mail Flow' tab on the left.
Select 'Rules'.
Under 'Rules', select the '+' icon, and then on the dropdown box, select 'Bypass spam filtering...'.
Name the rule as 'SAT Domain allow'.
Under '*Apply this rule if...' select 'the sender is' and then 'domain is' as shown below: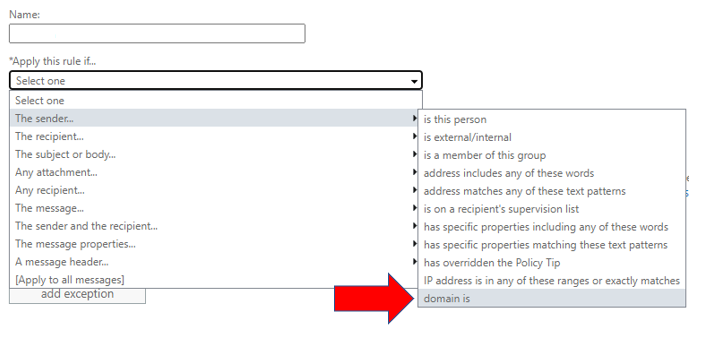 In the 'Specify Domain' box, you will need to add the domains, making sure to click the '+' icon after each domain to add it to the list, and then click 'Ok' once finished. 
Please see below for the current list of domains we provide:
uk.sat.clouduss.com
nhs-antibodytest.co.uk
just-eat-voucher.co.uk
noreply-linkedinverify.co.uk
noreply-amazon.co.uk
dpdupdates.co.uk
dropbox-notifications.co.uk
microsoft-notifications.co.uk
netflix-password.co.uk
netflixnotifications.co.uk
noreply-deliveroocredit.co.uk
noreply-hmrcupdate.co.uk
noreply-microsoftpasswordreset.co.uk
noreply-ubercredit.co.uk
gmaillogin.co.uk
google-notifications.co.uk
dhlshipping.co.uk
noreply-amazon.co.uk
who-travel-updates.com
royaal-maill.com
netflix-update-details.com
fed-ex-parcels.com
microsoft-security-alerts.com
coffee-vouchers.com
hr-staff-updates.com
staff-payroll-updates.com
Under 'Do the following...', select 'Modify the message properties...' and then 'Set the spam confidence level (SCL)' as shown below: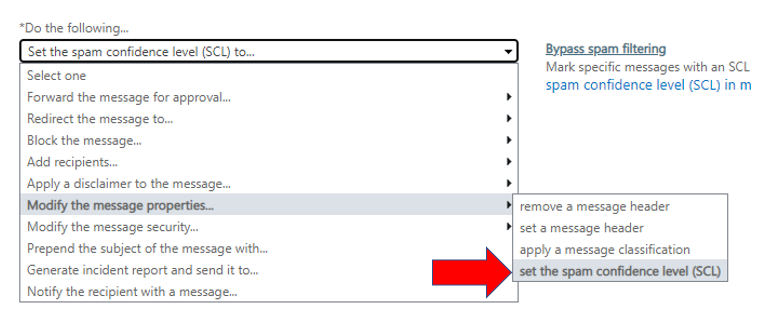 Leave the remaining settings as default and click save.
After the window has closed, move the priority of the rule to '0' using the upwards-facing arrow key as shown below.

All simulation phishing emails should now come straight through to your user's inbox.
---