Single Sign On (SSO) / M365 Configuration on the SAT Portal
This is a short guide on how to set up M365 Single Sign On (SSO) for your organisation so that your users may launch the SAT portal from their browsers without creating login credentials.
If you have already followed the
AD-Sync Setup KB
then you do not need to implement SSO as described in this KB since the permission has already been set up.
Ensure you are using an M365 global admin account.
The users must already exist within the SAT portal. This can be achieved by
manually adding the users
or via AD Sync following this KB Article.
Use an incognito/InPrivate web browser to access the SAT portal
Once the SAT portal has loaded, click Sign in with Microsoft ensuring you are using the admin credentials as they appear on the SAT portal. This will be the same email used to create the allow listing and user imports prior. (If the global admin account doesn't have portal access, this can be added upon request).
Once logged in you will be presented with the screen shown below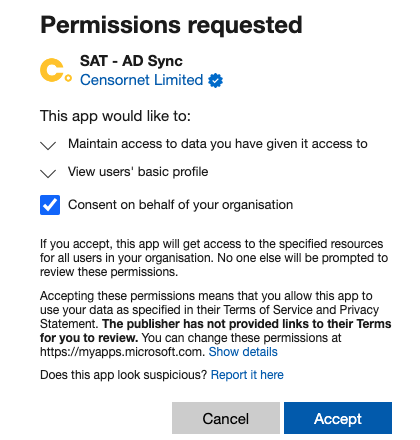 Tick the Consent on behalf of your organization box and then click Accept
The portal will now open as normal which confirms the completion of the SSO confirmation. You can confirm this by checking your M365 Admin Enterprise app and looking for the SAT - AD Sync application
---