Mailboxes
Your Email Security account can cover many different email mailboxes, at multiple domains. To see the mailboxes currently being managed by Email Security, visit your USS Dashboard and click Products ⟶ E-mail Security ⟶ Mailboxes.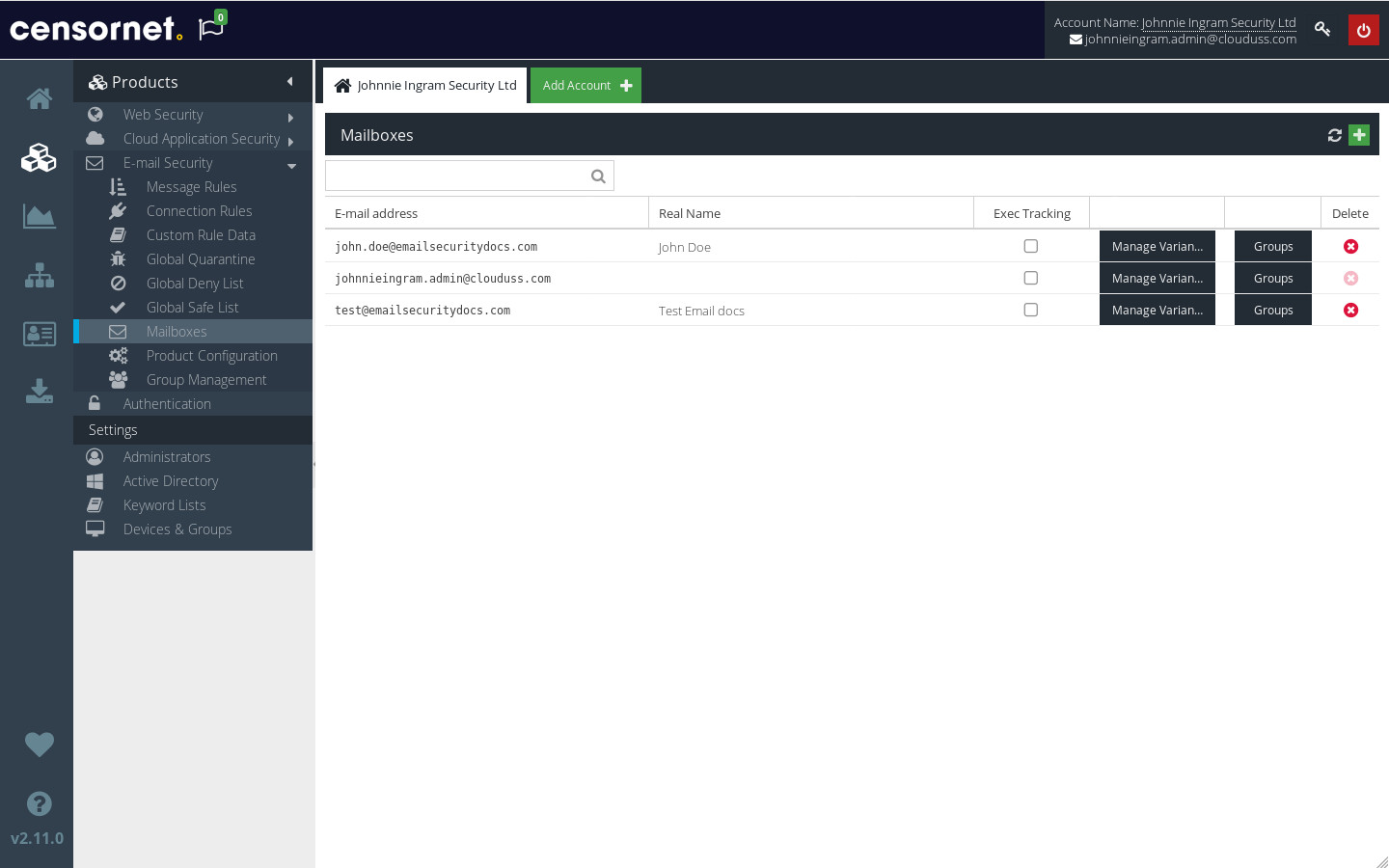 Your mailboxes are listed. To edit the details of any mailbox, just double-click it in the list.
If a mailbox has been synchronised from Active Directory, it will be displayed with an icon next to its name.
E-mail address
The email address to track.
Please note that email addresses should conform to 7-bit ASCII. Special characters introduced with the RFC 6531: SMTP Extension for Internationalized Email (SMTPUTF8) are not supported.
Real name
The real name associated with this email address. This is currently only supported through Active Directory synchronisation of user object given name and surname attributes. Based on the real name for a mailbox, Email Security will automatically generate a number of variants of this name which will also be tracked (for instance, Rob Smith for a user named Robert Smith). This can help to ensure that email to this user is correctly captured by Message Rules.
Exec tracking
Enable this checkbox if the user should be considered a company executive for the purpose of the Executive Tracking Condition.
You can activate
executive tracking
for specific Active Directory groups on the
Group Management
screen.
Manage Variants
Click the Manage Variants button to manually add variants to the user's real name that should also be tracked. For example, adding the variant Gosia Foremniak to user named Małgorzata Foremniak.
Groups
To add or remove users from specific AD groups, use the

button. You can add the user to a group by click the Add Group Membership button, or remove the user from a group by clicking

.
Delete
To delete a mailbox from Email Security, select it and click

.
Deleting a mailbox will not delete the mailbox or its emails from your server, but will stop the mailbox from being tracked and managed by Email Security.
Adding a new mailbox
To add a new mailbox for Email Security to track and manage, just click

. Enter the email address and an optional real name, and hit Enter.
If the user you add is not part of a domain that
Email Security
is already tracking, the new mailbox will not be created. You can add new domains by visiting
Product Configuration
.
Importing mailboxes from Microsoft Exchange Online
It is possible to export a list of mailboxes from Microsoft Exchange Online by using the Export option in the Exchange Admin Center: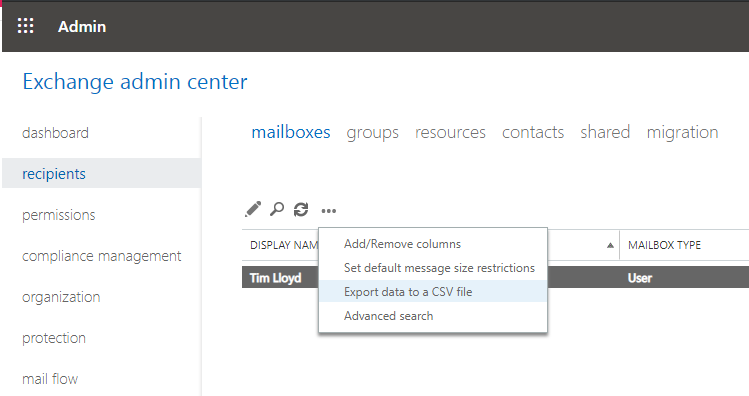 To include aliases in the CSV file ensure that you tick the EMAIL ADDRESSES checkbox in the Export Data dialog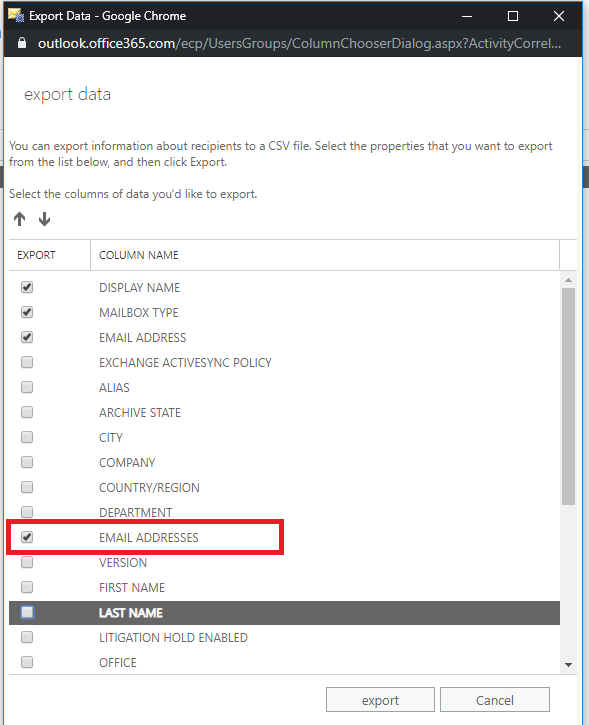 The resulting CSV file can be imported directly into the Mailboxes section by clicking the import button:

This will open the Import Mailboxes from Exchange Online dialog. Select the CSV file you downloaded from the Exchange Online admin center.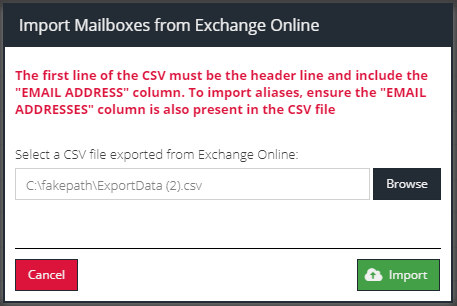 Then click Import.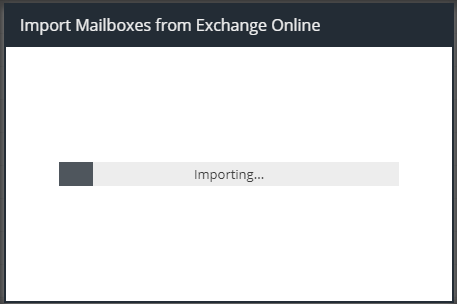 The results of the import process will be displayed.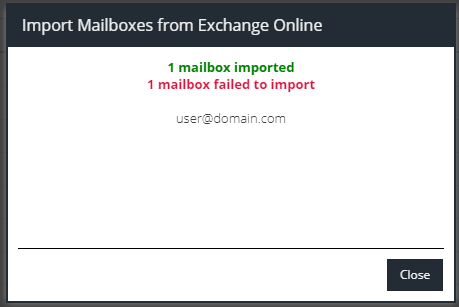 If the email addresses you import are not part of a domain that
Email Security
is already tracking, the new mailboxes will fail to import. You can add new domains by visiting
Product Configuration
. Mailboxes will also fail to import if they already exist. You will also see a failure error if the mailbox already exists as a primary or alias.
If you plan to upload the same CSV multiple times then ensure that you delete all the primary mailboxes and aliases after each attempt, otherwise you will receive failure errors due to the duplicates. Further, if you delete a primary mailbox but not the individual aliases, then the aliases will be promoted to primary so they will still exist. Subsequent CSV imports will be a mix of orphaned addresses and ones added back that were deleted.
It is possible to create your own CSV file rather than download it from Exchange Online. The minimum required format of the CSV is shown below.
Import CSV Format
"FIRST NAME","LAST NAME","MAILBOX TYPE","EMAIL ADDRESS"
"David","Smith","User","david.smith@domainemail.co.uk"
---