Prevent Law features for UK organisations
In the UK, the Prevent Law or Prevent Duty, is a duty that certain UK organisations (e.g. schools, government, etc) have to prevent people being drawn into terrorism.
To support this, the USS Web Security product includes a block list of known online terrorist and radicalisation content that is supplied and maintained by the Counter Terrorism Internet Referral Unit (CTIRU). If this option is enabled, requests to websites on this list will be blocked and attempts to access these sites can be view in Activity reports.
End-users will receive a "Page not found" message if they intentionally or accidentally visit a CTIRU-listed web site.
How to verify if the CTIRU blocklist is enabled
To request the CTIRU blocklist to be enabled or disabled for your account, please contact your service provider.
You can further verify that the CTIRU blocklist is active by visiting
http://ctirutest.clouduss.com
in a web browser that is protected by USS
Web Security
. If the CTIRU blocklist is active, a
Page Not Found
message will be displayed. If it is inactive, the web site domain will not be resolved due to a DNS failure.
For full coverage of the CTIRU blocklist you must ensure
SSL Intercept
is enabled.
How to report on access to the CTIRU blocklist
To report on attempts to access content in the CTIRU block list use the Web Activity report.
Visit your USS Dashboard and open the Analytics tab.
Under the Web Security category, choose the Web Activity report.
You can either scroll down to find the report, or enter Web Activity in the search bar.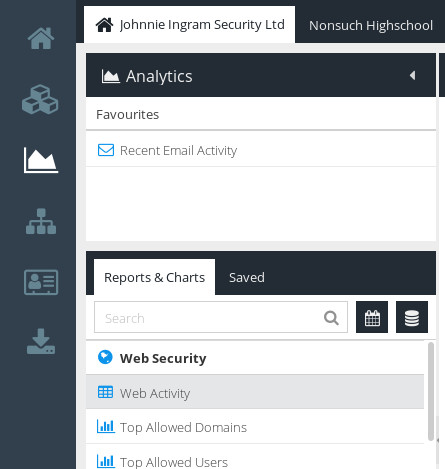 Click .
From the Filters dialogue that appears, click Limit by: Web Category.
The Web Categories list is displayed. In the search bar, enter CTIRU and press Enter.
Select the CTIRU category.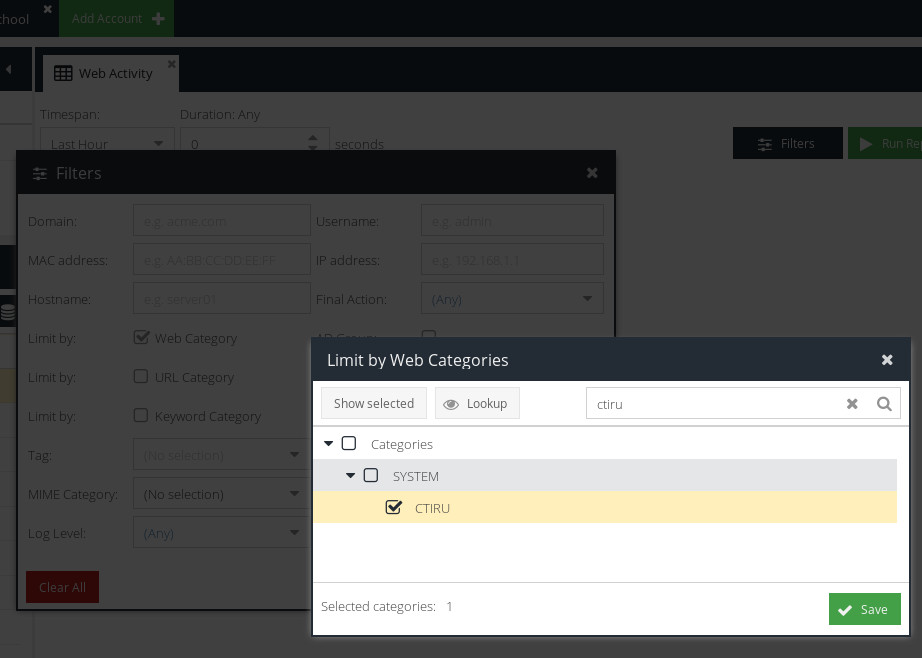 Click .
Click .
The report will run automatically. The results will show any requests which matched CTIRU-listed content. You can narrow down your results further by timespan or by additional filters, in the same way as any Report.
You may wish to save this report and add it to a daily or hourly Schedule with Email Empty Report option unselected to create an auto alert mechanism.
---